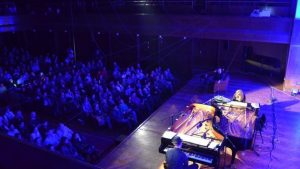 Take Over is a Creative Europe co-funded project focusing on youth audience development. The project gathered partners from the UK, Greece, Serbia, Poland and Italy driven by a strong desire to connect or re-connect with young adults (18-28) in an effort to engage with a wider and more diverse audience.
Under the lead of the British Council the partners (Bios in Greece, Chorea in Poland, Kolarac in Serbia and Teatro Limonaia in Italy) re-imagined artistic programmes from the point of view of younger generations, changing how they involve, engage with and attract young audiences. The project also aimed to offer a cohort of young people the opportunity to develop the skills, knowledge, and connections they need to start a career in the arts world.
Throughout the project Take Over partners investigated a demand-led model for youth audience development, establishing a Youth Board in four of the partner organisations. Youth boards worked closely with the venue staff, providing insight into what attracts younger generations. As well as providing valuable work-experience, the Youth Board helped ensure that young people's voices and opinions are considered in artistic programmes and visions. During the project Youth Boards from each institution took charge of curating and producing "TAKE OVER" events, a carte blanche for them to create an offer that reflects their generation's cultural aspirations. Each festival was be open to the general public.
The project consisted of the following key activities:
Youth audience training
• Participatory Workshops
• Take Over events
• Mentoring scheme
• Participation in the European Youth Seminar at the Edinburgh Festival
• Study Visit in Amsterdam
• Final conference "New Approaches to New Audiences"
• Learning Kit summarising partners learning and experience
• Baseline and Impact Surveys and External Evaluation
• Dedicated web-site
The project created a framework for testing out new approaches to working with young people and created opportunities for project partners and youth board members to work together and share their experience and learning. The project also provided a platform for engagement with a wider group of cultural professionals from the UK, Holland, France and other countries as well as disseminate project activities and results through on-line engagement.
The Learning Kit provides a step by step introduction to Youth Audience Development as experienced by the Take Over Project partners and is a helpful resource providing top tips for planning and setting up a Youth Board in a cultural organisation, https://www.takeoverproject.eu/learning-kit.