On the 21st of May 2019 Europa Nostra and the European Commission announced this year's laureates of the European Heritage Awards / Europa Nostra Awards.
The 25 laureates from 16 countries across Europe have been recognised for their impressive accomplishments in conservation, research, dedicated service, and education, training and awareness-raising. 2 outstanding laureates were also selected to receive a Europa Nostra Award from countries not taking part in the Creative Europe programme, namely Switzerland and Turkey.
The winners will be honoured at the high-profile European Heritage Awards Ceremony on 29 October in Paris, during the European Heritage Congress.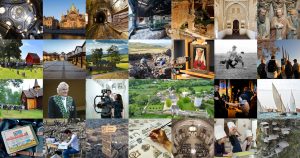 Public Choice Award; The public is invited to read about the winners and vote for the Public Choice Award. The voting is now open and will close on 15 September 2019.
You may access and download the relevant Press Release with details about the winners in various languages here.
In order to view or download short videos about each of the winners and a general video about the announcement  press here.
The Call for Entries for the 2020 edition will be published mid-June. The deadline for applications will be the 1st October 2019 (date of sending).